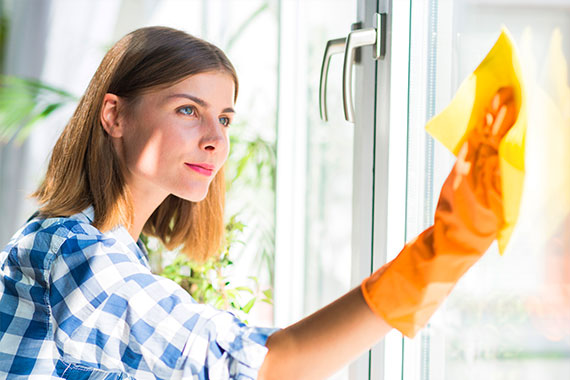 Hartley Commercial Cleaning Services was established in March 1994.
Starting with just one contract the business has grown over the years to become an industry leader in the region.
The business is owned and operated by Peter and Sandra Hartley.
Peter started the original operation in 1994 with Sandra joining fulltime in July 2000. Prior to entering the cleaning and building services industry Peter's background was in management and marketing while Sandra's expertise is in the training and development of staff and operational management. Together they have built one of the largest locally based cleaning firms in the region and in the process have set the benchmark for professionalism in the field.
Today our team cleans dozen of sites on a regular basis and many others as needed.
Our Services
Hartley Commercial Cleaning provides professional cleaning services to a wide range of business clients. We have developed expertise across a broad range of cleaning situations. We know what products work in given situations and how to use them safely and effectively. The products and equipment we use are designed to give optimum results in high usage areas.
Hartley Cleaning Services have been providing the daily cleaning of our store for the past 13 years. The customer through fare in our store is enormous. The commitment lead by Peter, Sandra and their team to continually deliver a professional, clean and refreshing store is essential to our business. They have provided through regular maintenance programs such services as vinyl strip and seal, carpet shampooing, back of shop services as well as general housekeeping. I have found Hartley Cleaning Services to be a true professional and reliable company with strong work ethics. I would have no hesitation in recommending their services.
Thanks for the great service you provide.
Thanks for your attention to detail and your wonderful service.
Our Chartered Accounting Firm has contracted Hartley Commercial Cleaning for the past 4 years. This contract began when we moved into our new building which comprised of 3 businesses and 760 square metres of space. Hartley Commercial Cleaning have shown the highest level of professionalism and quality since their contract began. Our clients often comment on the presentation and clean environment of our premises. Hartley Commercial Cleaning have created a pleasant environment for myself and over 20 staff members to work each day. I have no hesitation in recommending Hartley Commercial Cleaning for any cleaning contract, no matter how large or small, as I know that expectations of their clients will be more than satisfied.
I would like to confirm that Peter Hartley and his group have provided cleaning services to several sites including our current office premises for many years. We have not experienced any problems with their reliability and integrity and I have no hesitation in recommending their services.